A Cisco 2960 switch that i've not been able to login to remotely for a while I found  that even logging in locally at the console was impossible with the errors '%% Low on memory; try again later' showing on carriage returns.  Currently running version '(C2960-LANBASEK9-M), Version 12.2(58)SE2' The switch itself does nothing heavy as it's acting as a switch for 3 machines.
Switch Ports Model SW Version SW Image
—— —– —– ———- ———-
* 1 26 WS-C2960-24TT-L 12.2(58)SE2 C2960-LANBASEK9-M
As you can see it's already running the latest version of the 12.2 line which doesn't help so it's likely an unknown or unresolved memory leak.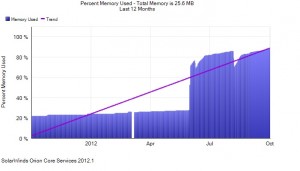 Downgrading to version 12.2(35)SE5 which is running on a lot of other switches I manage is since running fine so although it's early days this particular version is tried and tested and I've a lot more confidence in it